All times Eastern.
12:00 AM Sermon Hour: Nationally recognized clergy of all faiths and denominations speak at length of the perils of grunge.
1:00 AM Anti-Grunge Racing Circuit Roundup: Jeff Iodino and Kim Sturdinty host this weekly digest of auto races on the popular anti-grunge circuit, where dressing well is as important as driving well.
2:00 AM The Best of Anti-Grunge Today: Repeat of a selected program from this important series.
3:00 AM Paid Programming: Many companies want the opportunity to sell products to those fighting grunge, and this is their chance to spread their message to those most likely to be interested. Time is available in blocks as small as fifteen minutes.
3:30 AM Joseph Montague Presents: In this classic mystery series, strange things happen to those who are poorly dressed, while better-dressed people are able to make sense of things.
5:00 AM AGC Opera Playhouse: This week's opera from the Anti-Grunge Opera Company of Chesterton, Louisiana.
7:00 AM Cartoon Classics: Children and adults will both enjoy this selection of twenty classic cartoons of the anti-grunge genre. Host: Emily D'Agostino.
9:00 AM AGC Story Hour: Host June Herrera reads stories with an anti-grunge moral to her studio audience of preschool youngsters.
10:00 AM Issues on the Anti-Grunge Front: From Washington, DC, moderator Philip Aslerty leads this panel discussion on current events and issues in the anti-grunge world.
12:00 PM AGFL Pregame Show: Dawn DiDonato is the host of this fast-paced, in-depth preview of all the day's games in the Anti-Grunge Football League.
1:00 PM AGFL Game of the Week: AGC is proud to be the exclusive television outlet for all games played in the Anti-Grunge Football League, where players are required to wear dress clothes at all times.
4:00 PM AGFL Second Best: This AGFL game will be the matchup considered second-best on the day's schedule.
7:00 PM 60 Reporters: AGC's team of sixty seasoned reporters goes into the field to unearth those responsible for promoting grunge and expose them to the world.
8:00 PM Profiles in Courage: Biographies of famous and not-as-famous leaders in the anti-grunge movement. James Monticello narrates these fascinating profiles of those who courageously and tenaciously resisted the pro-grunge tide.
9:00 PM AGC Sunday Night Movie: AGC presents a high-quality motion picture pertaining to the anti-grunge cause.
11:00 PM Grunge-Free Standup: A hilarious hour of standup comedy as seen from the anti-grunge standpoint. Noted anti-grunge comic Jeff Vislou leads the merriment.

12:00 AM Daily Grunge Burning: Host Martha Quigley oversees the destruction of large quantities of grunge with the assistance of representatives from the U. S. Environmental Protection Agency. Viewers are invited to contribute grunge for burning on the program.
12:30 AM Stop Grunge: Compiled by the editors of Stop Grunge magazine, this video magazine highlights current issues in the anti-grunge movement.
1:00 AM Paid Programming: Many companies want the opportunity to sell products to those fighting grunge, and this is their chance to spread their message to those most likely to be interested. Time is available in blocks as small as fifteen minutes.
3:00 AM Dance Call: This popular program comes from the No Jeans Dance Hall in Pittsburgh, PA and is hosted by Jennifer Frader.
4:00 AM Sermon Hour: Nationally recognized clergy of all faiths and denominations speak at length of the perils of grunge.
5:00 AM National Farm Report: Hal Rewophy and Cal Phenobras anchor this daily report of the latest news in farming, with an emphasis on new techniques that reduce or eliminate the need for farmers to wear overalls or other types of clothing ordinarily categorized as grunge.
6:00 AM Exercise Without Grunge: Weightlifter and physical therapist Billy Sullivan leads viewers through a strict daily regimen of exercises done without donning grungy workout clothes such as sweat pants.
7:00 AM Molly the Puppeteer: Puppeteer Molly Jackson is the master of a large group of endearing puppets who reinforce the anti-grunge message through their entertaining skits.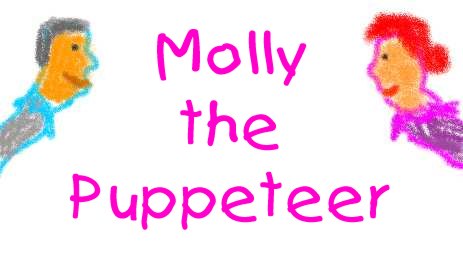 8:00 AM Captain Dress Shirt: Soft-spoken Brian Harriman is Captain Dress Shirt, whose easy-going manner and grunge-free lifestyle are a hit with youngsters worldwide. In this daily broadcast, he interacts with his sidekick, Mr. Nojeans, and a tightly-knit troupe of friends who explain through stories, skits, and songs why grunge is bad.
9:00 AM William! Host William Carolton discusses anti-grunge topics with a panel of guests as he mingles with a studio audience in this no-holds-barred free-for-all.
10:00 AM Spot the Grungy One: Larry Olsen hosts this game show in which a celebrity panel attempts to determine which one of three contestants is really wearing grunge underneath a dress shirt and slacks.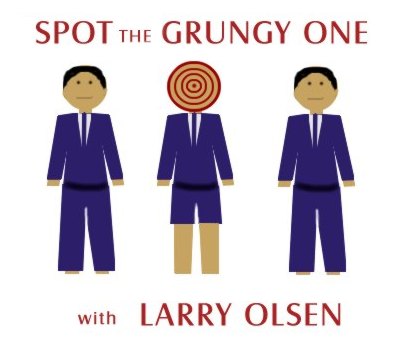 10:30 AM How Much Is That Dress Shirt in the Window? Contestants wearing grunge are selected from people passing the studio and given the opportunity to win a grunge-free wardrobe if they can guess the correct price of several articles of dress clothes. They can double their winnings by providing the name and address of a friend steeped in grunge. Host: Art Kulikow.
11:00 AM Test Your Grunge Knowledge: Jane Gallagher quizzes contestants on a wide variety of subjects related to the anti-grunge cause. The top three contestants each year return for the $100,000 finals.
11:30 AM Live From Crown Central Clothing Store: This store in Wilmington, Delaware does not sell grunge of any sort; our live camera inside the store shows each day how well the anti-grunge movement is progressing. Includes occasional interviews with selected shoppers.
12:00 PM Today's Weather: An in-depth national weather forecast as seen from the anti-grunge perspective.
12:30 PM Sports Roundup: Melissa Brady presents this detailed report on all happenings in anti-grunge sports.
1:00 PM Grunge-Free Travel: Pat Jensen shows how you can have fun traveling without succumbing to the temptation to wear grunge on your trip. On-location reports are included.
1:30 PM Knitting with Christine: Accomplished knitting star Christine Newark shows viewers how to create durable, professional-looking clothes from scratch without falling into the trap of making grunge just like commercial manufacturers.
2:00 PM Camping with Clement: Clement Saratoga, internationally-acclaimed camper and author of several books on camping, shows viewers how to enjoy time with nature without stooping as low as to wear grunge such as hiking boots, sneakers, or jeans.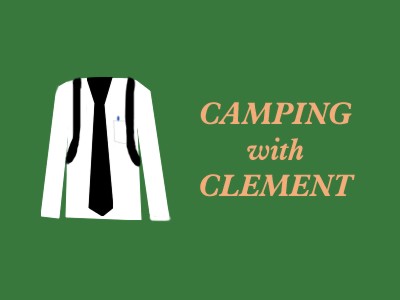 2:30 PM Leopold's Kitchen: Chef Leopold Hartford prepares tasty dishes without the use of grungy aprons or other unsuitable clothing.
3:00 PM Hatch Game '22: Get ready to hatch the stars! Contestants attempt to win cash prizes by assembling a grunge-free wardrobe in matching the answers provided by six celebrities to humorous questions but are dropped down a hatch in the floor and eliminated from the game if they inadvertently match the one celebrity wearing grunge. Derry Logan hosts.
3:30 PM Stunt Challenge! A team of contestants wearing grunge challenges a celebrity team wearing dress clothes as both attempt to complete the same wacky series of stunts in a specified amount of time. A $50,000 prize is available to the first grungy team to win, but after 1250 episodes, the celebrity team has always won. Tom Cretono hosts.
4:00 PM Philip Jefferson: Beat Officer: Officer Jefferson is assigned to the anti-grunge squad of the police department after the people of Premungo, a tiny island nation in the South Pacific, vote to outlaw grunge. His daily efforts to enforce the new law make for exciting drama. Movie actor Charles Cicero makes his television debut in this series.
5:00 PM The Autopsy Guy: Dr. Hugh Lincoln is the medical examiner in Los Miaglos, California, and tension is constant in his office as anti-grunge activists are mysteriously found dead each week. Watch this gripping drama as Dr. Lincoln (Fred Parsippany) finds the real culprits in these deaths.
Sound clip: Detective Fox delivers his trademark line, "Take that body... to the Autopsy Guy." TAKEBODY.WAV
6:00 PM Mr. Oxford's Neighborhood: The bright, cheerful Mr. Oxford shows off his nice sweater and shiny oxford shoes to the residents of his idyllic neighborhood, where sneakers and t-shirts draw frowns and depress people.
6:30 PM The Grunge-Free Investor: Mark Watson anchors this daily report on investing in companies that are not involved in promoting grunge.
7:30 PM Reverend McHenry: A parish in downtown Manhattan is plagued by grunge worn by its affluent parishioners, and Reverend McHenry (Alan Larchmont) is dispatched by his bishop to be the new pastor, charged with the task of eliminating grunge from Sunday worship. Nominated last season for Best Dramatic Series.
8:30 PM Anti-Grunge Today: Mary Whillie and Bert Harkinson host this immensely popular live program that includes guest celebrities and a studio audience.
9:30 PM Grunge in Nature: Sal Ortega-Cortez hosts this unique look at how animals thrive in the wild without wearing grunge-- and how animals that do wear grunge often are eaten by grunge-free predators.
10:00 PM Gary's Grunge Affliction: In this lighthearted situation comedy, Gary Binghamton (Steve Brittany) is a hapless subway conductor whose off-duty life just never seems to go right because he goes home and changes from a respectable uniform into a mishmash of grunge. His roommates, Al (Brian Poughkeepsie) and Tim (Gene Watertown)-- already recovered from grunge-- attempt to use humor and practical jokes to get Gary to mend his ways.
10:30 PM Lisa, I Love You, But: Jerry Rochester plays the part of Ted Troy, who has fallen head-over-heels for a pretty young lady, Lisa Oneida (Liz Jamestown), who works in the same office building as he does. Ted attempts to induce Lisa to renounce her use of grunge so that he can marry her. Lisa secretly longs to marry Ted but mightily resists his overtures because she is very much attached to grunge. The understated undercurrents of the relationship between Ted and Lisa make this bittersweet comedy particularly compelling.
11:00 PM AGC World Monitor: Nightly anti-grunge news from around the world as reported by AGC's prize-winning news bureau.

12:00 AM Sermon Hour: Nationally recognized clergy of all faiths and denominations speak at length of the perils of grunge.
1:00 AM Amateurs Welcome! Amateur performers of each sex are given a chance to make a name for themselves before a national audience, but a bell sounds and they are quickly removed from the premises if they are found to wear the slightest bit of grunge.
2:00 AM The Adventures of Magnaman: Magnaman (Trevor French) posesses super-human powers and uses them in the pursuit of truth, justice, and freedom but must at all times be careful not to come in contact with grunge, the one thing which renders him helpless.
3:00 AM Paid Programming: Companies unsuccessful at selling things to our viewers during the week get one last chance to close the sale through the use of half-hour and hour blocks of time.
5:00 AM Borrell and Sardi: The anti-grunge skits of this 1940's vaudeville team survive in this series from a more enlightened period in the history of television.
5:30 AM Science and Grunge: Dr. Vivian Trio hosts this review of the latest scientific studies and research that support the anti-grunge cause.
6:00 AM Cascio's Anti-Grunge Garden: Renowned gardener Emilio Cascio cultivates his garden of herbs and other plants shown to be an aid in breaking an addiction to grunge.
6:30 AM Children's Game Extravaganza: Children compete in fun and exciting games designed to promote the anti-grunge philosophy. Anti-grunge cartoons are shown between games. Host: Frank Erie.
9:30 AM Neat Rabbit and Sloppy Bear Show: (Cartoon) Sloppy Bear is hungry and desperately wants to eat Neat Rabbit, but his grungy lifestyle keeps causing his elaborate efforts to catch Neat to fail.
10:00 AM Mom, Dad, I Hate Grunge: Twelve-year-old Tommy Jones (Gary Daytona) is beginning adolescence, meaning that his voice is deepening, his face is beginning to show darkening whiskers, he is starting to look at girls, his father has to explain the birds and the bees-- and he desperately wants to stop wearing grunge and start dressing like a grownup. His parents, 1960's refugees who never grew up themselves and don't want to admit that their baby is growing up, adamantly fight Tommy at every turn and keep him in jeans, shorts, and sneakers. Adolescents particularly enjoy this live-action series in which life is seen from the perspective of a growing young man.
10:30 AM Arlene's Albatross: Arlene Arlington is a sixteen-year-old who, on account of her father's death, has inherited the majority ownership of the X-54 Corporation, the nation's largest manufacturer of grunge. Arlene (Pauline Richmond) is unalterably opposed to grunge and now must find a way to dismantle the company despite the resistance of her guardian (Hugo Beady) and the company's board of directors, stockholders, and lawyers. She also is committed to finding good jobs for all of the company's workers, which complicates things for her and makes for interesting television.
11:00 AM Colorado and Montana: The two anti-grunge movie reviewers Nora Colorado and Oliver Montana screen current movies in search of those with an anti-grunge theme and give their assessments from the anti-grunge point of view.
11:30 AM Physicians' Grunge Review: Dr. Kathy San Felipe demonstrates the latest surgical techniques used in the treatment of patients afflicted with grunge. Actual surgery is shown; viewer discretion is advised.
12:00 PM Specials: Our showcase for one-of-a-kind programs and coverage of special anti-grunge events.
1:00 PM The Eddie DelRio Show: Eddie plays a father attempting to rear a grunge-free family with his wife Jenny (Maureen Spencer) despite the negative influence of the surrounding culture, which relentlessly intrudes.
1:30 PM The Sue Vegas Show: Sarah Syracuse (Vegas) has been in a grunge rehab for five years but still is unable to let go of her addiction to grunge. Each week, a new doctor and a new group of patients spend time with her and share their experiences and insights in an attempt to help her break free of her problem.
2:00 PM Grunge to the Stars: This science-fiction series is a tremendous hit with AGC viewers. After an unmanned cargo ship loaded with toxic, discarded grunge is sent hurtling into the sun and the temperature of the Earth's atmosphere increases 25 degrees Celsius as a result, Captain Don Seattle (Ralph Albany) is assigned to lead the space vessel U. S. S. Portland through the galaxy as it searches for a safe place to dispose of the Earth's miniskirts, jeans, sneakers, t-shirts, sweat pants, shorts, and other assorted grunge. Interstellar Environmental Commissioner Tabar Korqua of the planet Volpar trails Captain Seattle every step of the way to ensure that he complies with intergalactic environmental regulations.
3:00 PM Anti-Grunge Bowling Tour: Weekly competition by bowlers wearing dress shirts, blouses, slacks, and shoes in the AGBT. Veteran bowler Irene Lexington is the commentator.
5:00 PM Specials: Our showcase for one-of-a-kind programs and coverage of special anti-grunge events.
6:00 PM Building with Class: Stan Ogdensburg hosts this program in which viewers watch each step in the renovation of an older home or the construction of a new home by tradesmen who have agreed not to wear grunge on the job.
6:30 PM Anti-Grunge Art with Alexander Williams: The famed painter and sculptor demonstrates how good art can be created without portraying figures wearing grunge or otherwise promoting the pro-grunge philosophy.
7:00 PM Walla Walla City Hospital: Dr. Ken Birmingham (Hank Lauderdale) is an orthopedist in the grunge ward of the title hospital, where he attempts to cure patients who have worn sneakers. He has to lean heavily on his wife Clara (Barbara Orleans) for support as he witnesses some of the most severe foot deformities imaginable.
8:00 PM AGC Variety Hour: Rhetta Trenton and Michael Harrisburg host this 1960's-style variety program reminiscent of the days of Ed Sullivan. Performers are drawn from the anti-grunge school of entertainment as in the golden age of television.
9:00 PM The All-New Rick Van Wyck Show: Rick stars as the owner of a hotel in a lucrative location near a major expressway. He attempts to enforce a reasonable dress code on his guests while still remaining profitable.
9:30 PM The Jerry Mylar More Show: For those who didn't get enough of Jerry Mylar in his first show, here's more as he plays a television newswriter who attemps to move the spotlight from grungists onto those who are promoting clothing reform.
10:00 PM The Incorruptibles: Set in the year 2029, after a constitutional amendment outlawing grunge is passed, this series follows FBI agent Lou Boston (Lee Hallendale) and his select team of cohorts as they lock horns with organized crime figures and others with an interest in promoting the illegal use of grunge.
11:00 PM Specials: Our showcase for one-of-a-kind programs and coverage of special anti-grunge events.
AGC main page
Program schedule
This week's featured programs
Our founder
The Personalities
AGC Television Center
Investors' page
How to get AGC
Contact us